Food For Thought Closing Doors After 42 Years In Business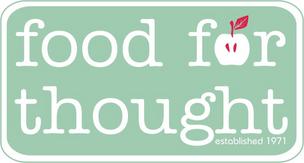 As is often said on Wall Street, the winners keep winning. In other words, expect more of the same. For instance, United Natural Foods expects FY 2014 net sales to increase 11.8%-14%, and EPS to improve 10.1%-14.7%. Sysco (NYSE: SYY ) hasn't been quite as impressive as Hain Celestial and United Natural Foods, but that's to be expected given current industry trends. Despite competitive and macro headwinds, Sysco has still managed to grow its top line, and it's constantly cutting costs to improve the bottom line. Even though Sysco doesn't have as much exposure to the health-conscious consumer, Sysco is capable of adjusting to industry trends to target this high-potential market. Even if this transition doesn't take place, Sysco rewards its shareholders with a generous 3.50% yield, while maintaining a debt-to-equity ratio of 0.56 — below the industry average of 0.60. Additionally, Sysco has repurchased its own shares for 21 consecutive years. This keeps outstanding share count low and aids earnings-per-share, which then pleases investors. In the fourth quarter, Sysco's sales increased 5% despite a hesitant consumer, and only 2.1% of this growth could be attributed to acquisitions. Volume growth, including acquisitions, improved 3%. The bottom line It would be difficult to go wrong with a long-term investment in any of these companies.
This Food Company Continues to Get Healthier
at the D.C. Jewish Community Center. When the Food Network was launched in 1993, Salkin says it was inspired far more by profit potential than by a love of food. Its first 10 years on air were geared toward foodies, "godfather" Emeril Lagasse had a nightly cooking show, and advertising grew quickly. Programming started to change course in 2003 with a new network president and increased demand for reality TV. The lower costs and higher ratings of dramatized cooking competitions ended up driving out shows like Lagasse's. Familiar names like Deen, Alton Brown, Giada De Laurentiis, and Bobby Flay became the channel's centerpiece. From Scratch is about a business venture-turned-"corporate monster" that has experienced many ups and downs with many personalities in the mix. Salkin shows how combining corporate and hospitality cultures has brought out the ambition, savvy, aggression and vulnerability of those involved. It reads almost like fan fiction, if you really have a thing for celebrity chefs, except it's purportedly true. You'll learn about the minority groups that might make Guy Fieri uncomfortable, Rachael Ray's tank-like tolerance for booze, and why Anthony Bourdain probably won't get invited over for fried cheesecake anytime soon. The book says that the Food Network faces new challenges going into its third decade.
Page & Perspective: The Food Network, Raw and Unchopped
Its very sad, says Melinda Foley , owner of the store at 2929 E. Central. We all feel like theres been a death. I know that a lot of people in the community will be very sad to see us go. Foley, 55, has worked in the store since eighth grade and managed it for the last 34 years. She says the store, which her parents started in 1971, is closing because increased competition is making it hard for independent natural foods retailers to compete. The store doesnt have the buying power that its larger competitors do, she says. The competitions just gotten really tough, Foley told me. She noticed things starting to change with Natural Grocers arrival in Wichita in late 2011 . With Whole Foods Market Inc. opening a store here next year , we just felt like this was the time to go out on top, she said. Food For Thoughts closure is just latest development in the local natural foods business. Wichita-based GreenAcres Inc. recently took over management of another longtime natural foods retailer, Whole Foods Association, which has three stores in Wichita and two others in Oklahoma, and it plans to close on the purchase of all five by Oct. 31. Barb Hoffmann , CEO of GreenAcres, told me in August that the deal was all about scale, underscoring the point made by Foley.