Hollywood: 'you're Fat!' Jlaw: 'f–k You, I'm Fabulous!'
Hollywood's 'Race Problem' Is Worse Than You Think
He handcuffed White and then Johnson but did not arrest them. "After he told me that I did not have a warrant for my arrest, and he started asking me about drugs for the third time, I said, 'Are you doing this because we're black?'" Johnson told HLN. "And that was when everything took a turn for the worst. He patted the car, he walked back to his car, he put on gloves. The next thing I knew, he was handcuffing Dennis." "He told me … I was being detained for his safety because he didn't know me," Johnson said. "At this time I became distraught," White wrote in his account of the incident. "I have been racially profiled several times in my lifetime but it touched my core when my woman was included." Marion County Sheriff Mark Richardson issued a statement on Monday in regard to the actors' claims: "Discrimination in any form, including racial profiling, is strictly prohibited by this department and as Sheriff of Marion County SC, I can assure you I will take immediate and appropriate action to investigate the allegations of racial profiling made by Mr. White and Ms. Johnson. This matter will be dealt with by an internal investigation within the department and I will also ask the State Law Enforcement Division to review the allegation made against Deputy Barfield." It was Johnson's first experience being handcuffed. Several of her family members work in law enforcement, Johnson said, adding that she's "never been afraid of cops or had bad opinions of them." This time was different. After thoroughly searching the car, the officer removed the handcuffs and let the couple go. "No apology, no nothing," White wrote.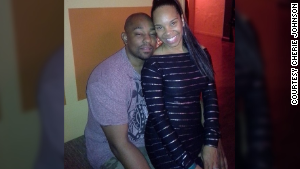 Forget the fact that she emerged as the second-youngest Best Actress winner of an Academy Award (Silver Linings Playbook, 2012), and the highest-grossing action heroine of all time (The Hunger Games, 2012) in the same year, at only age 23. She's "fat," and she'll risk losing future opportunities if she doesn't first "lose a certain amount of weight." Um, right. "It was just the kind of shit that actresses have to go through," Jennifer said — that is, the shit of an industry that's exceptional at finding fault where there is none. "They brought in pictures of me where I was basically naked, and told me to use them as motivation for my diet," she added. In reality, it's early in JLaw's career, and "the most talented young actress in America," according to Rolling Stone, has as much professional success as she has men drooling over her — without having to diet — not to mention all the women who look up to her and want to be her BFF. Truth is, she looks like a woman who's conscious of her health and feels good in her own skin. Look at her! Exactly where could she shed the pounds? Her face is filled with color and she carries herself with a confidence that rises well above Hollywood's weight obession. She is a mega babe! "If anybody even tries to whisper the word 'diet,' I'm like, 'You can go fuck yourself,'" she summed up. That's the vibrant, foulmouthed warrior we know and love.
6) A documentary about The Beatles' famed secretary. "Salinger" (Sept. 6) Shane Salerno ("Savages") directs this documentary about the reclusive "Catcher in the Rye" author. "Winnie Mandela" (Sept. 6) Jennifer Hudson stars as Nelson Mandela's wife Winnie in this new film, the first of two Mandela features set for release this year. "The Family" (Sept. 13) Director Luc Besson's mob comedy stars Robert De Niro and Michelle Pfeiffer, because sometimes we're allowed to have nice things. "Insidious: Chapter 2" (Sept. 13) Too scary. "Jayne Mansfield's Car" (Sept. 13) Billy Bob Thornton's first feature directorial effort since 2001's "Daddy and Them" stars Thornton himself, Kevin Bacon and Robert Duvall. "Battle Of The Year" (Sept. 20) Chris Brown made a movie with Sawyer from "Lost." (Real.) "Prisoners" (Sept.